This blog will go over the members who will work with you during a case at any law firm, and at Bulluck Law Group.
Types of Roles at a Law Firm
There are three main type of professionals that will likely work on your case, regardless of what law firm you go to:
Attorney
An attorney is a licensed professional who completed law school and passed the state bar examination. They have the ability to speak and file documents in court on behalf of others, as well as charge for these services. In a law firm, the attorney is responsible for the well-being of the clients.
Paralegals
Paralegals work on legal issues for the attorney, and help them prepare for trial, hearings and other meetings. They also draft legal documents for the attorney and may conduct legal research for them as well. Paralegals cannot speak in court, and an attorney is responsible for reviewing their work.
Legal Secretary/Assistant
Legal Assistants working directly with attorneys and paralegals, to assist in clerical duties. This may include writing emails, letters, making phone calls, or retrieving the necessary paperwork or case files from businesses and the law firm's client system. Legal Secretaries generally do not work directly on legal issues.
About Bulluck Law Group
Bulluck Law Group was founded by attorney David M. Bulluck. David Bulluck believes in helping those who have been wronged and has built his legal career obtaining justice for individuals and their families in both Florida state courts and federal courts.
As your accident attorney and personal injury attorney, Bulluck Law Group treats your case as a top priority. David Bulluck's team can offer the support and legal representation that's warranted in your time of need.
Understanding, compassionate, and experienced, our attorneys will go over your case and let you know what you can expect to happen. We'll also examine the possible strengths and weaknesses in your case.
Our lawyers have the expertise and experience as well as many awards and distinctions to equip you with the best possible representation. We have a No Recovery, No Fee Promise. You don't owe us a penny if we don't recover damages in your lawsuit. Consultations are free.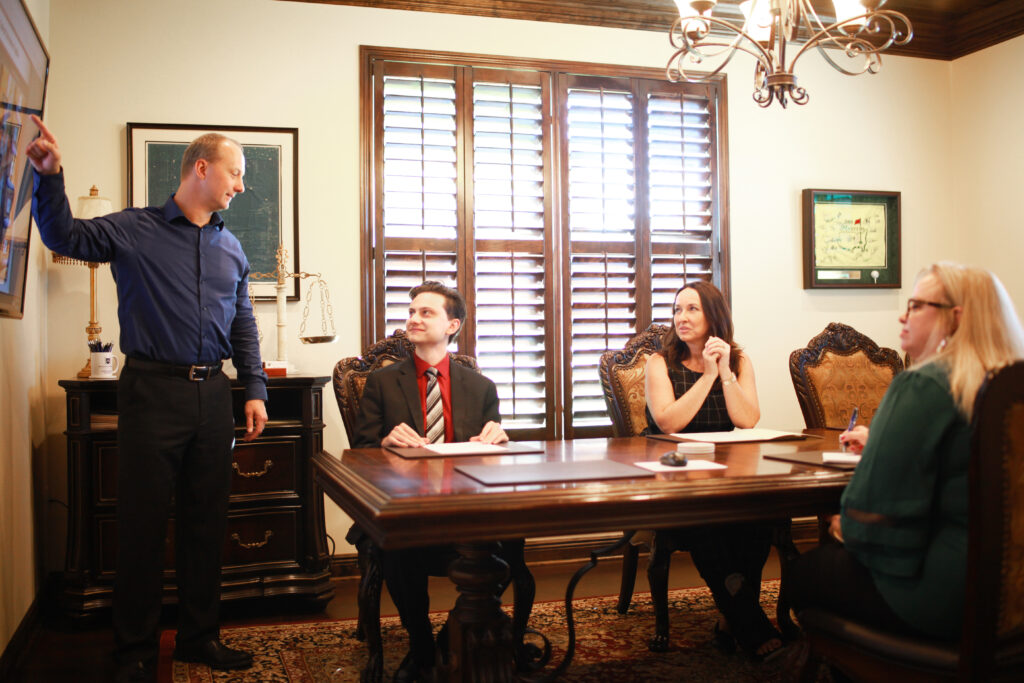 The Employees at Bulluck Law Group
David Bulluck, Attorney
In his legal career, David Bulluck has earned significant trial verdicts and settlements on behalf of his clients. Other lawyers in the State of Florida voted to recognize Mr. Bulluck in Florida Super Lawyers, Rising Stars, a distinction limited to only 2.5% of lawyers in the state.
Based on his results, David Bulluck was named a lifetime member of the Million Dollar Advocates Forum, The Top Trial Lawyers in America. The Million Dollar Advocates Forum is recognized as one of the most prestigious groups of trial lawyers in the United States. Membership is limited to Attorneys who have won million and multi-million dollar verdicts, awards and settlements. Fewer than 1% of U.S. lawyers are members. Forum membership acknowledges excellence in advocacy.
Bulluck is a Tampa native and grew up in Temple Terrace, Florida. Bulluck attended Jesuit High School before attending the University of South Florida where he earned his Bachelor of Arts degree in History. Bulluck is a graduate of Stetson University College of Law. Bulluck also earned his Master of Business Administration from Stetson University.
Debbi Bulluck, Business Director
Debbi manages the daily business operations of the law firm as well as all financial matters related to each client. Before joining the practice, Debbi graduated from the University of South Florida earning a Bachelor of Arts in Elementary and Early Childhood Education.  Debbi was a classroom teacher for Hillsborough County Public Schools in the Tampa area and The Diocese of St. Petersburg, Catholic Schools.  Her experience to meet ever changing needs in the classroom has been most beneficial to assist clients and coworkers at Bulluck Law Group.
Kristi Bulluck, Public Relations Director
Prior to joining Bulluck Law Group, Kristi attended the University of South Florida where she earned her bachelor of arts in mass communications.  Upon graduation, Kristi gathered significant experience working with television news stations. She brings this background to promote the cause of our clients in the community.
She brings this background to promote the cause of our clients in the community.  In addition to her media background, Kristi earned her Master in elementary education and is currently completing her Ph.D. in education at the University of South Florida.  Kristi is married to David Bulluck.
Karmen Pitts, Legal Assistant
Karmen Pitts joined Bulluck Law Group in November 2016, with seventeen years prior work experience as a legal assistant.  Karmen brings her passion for helping clients through the legal process.
Before joining the practice, Karmen graduated from the University of South Florida earning a Bachelor of Arts in Elementary Education.  Upon graduation, Karmen was a classroom teacher for Hillsborough County Schools for eight years and Home School evaluator and educator for thirteen years.
Carol Dunlap, Advanced Certified Paralegal
Carol Dunlap joined the Bulluck Law Group in June 2016 as the firm's advanced certified paralegal, devoting herself 100% to the area of personal injury law. Carol is an active member of the Tampa Bay Paralegal Association whose mission includes setting the standard of excellence for the paralegal profession through its work on regulations, ethics, and education.
Carol earned her Bachelor of Applied Science in Paralegal Studies cum laude in 2007 and her Associate in Arts with honors in 2005, both from St. Petersburg College in St. Petersburg, Florida.
Carol's professional certifications and accreditations include Advanced Certified Paralegal status through the National Association of Legal Assistants and Florida Registered Paralegal status through the Florida Bar.
Carol is originally from Colorado Springs, Colorado. After leaving Colorado, Carol traveled extensively with her own family throughout the United States, lived in several states on the east and west coasts, the Republic of Panama and Buenos Aires, Argentina before settling in the Tampa Bay area. In her spare time, Carol enjoys reading, crafting, and going to Walt Disney World; but most of all, she enjoys spending time with her two children and five grandchildren.
Julie Riggs, Paralegal
Julie Riggs is currently a paralegal for Bulluck Law Group and has been helping people with their personal injury claims for thirty years. Although there are many areas of law, she most closely relates to personal injury clients and enjoys sharing information with them to explain how to deal with their experience and empower them to recover and move forward.
Julie moved to Florida when she was a teenager but grew up in Wisconsin. She enjoys nature, water activities, and Florida's beautiful beaches. She frequently travels overbroad and throughout the states as she really enjoys learning about other cultures and their customs.
Jennifer Cook, Paralegal
Jennifer Cook is currently a Paralegal at Bulluck Law Group. She has over twenty years of experience in diverse legal environments. The majority of her career has been in Personal Injury. She is dedicated in her work to make sure clients at the firm receive the best quality service by providing regular updates and case support from beginning to end.
A true native of Tampa, Jennifer enjoys reading, traveling, gardening and attending local community events and dining at diverse restaurants in the Bay area with her family.
If you are in need of a personal injury attorney, reach out to Bulluck law Group for a free consultation.
We have experience in many areas including car accidents, bus accidents, truck accidents, bicycle accidents, boat accidents, dog bites, motorcycle accidents, slip and fall, wrongful death, negligent security, and premise liability. Contact us for a free consultation today.